The Importance of Dental Exams
Getting yearly oral assessments you take a proactive stance to ensure the health of your smile. A yearly oral exam at DentalWorks - Hyperlingo diagnoses tooth cavities, periodontal disease, cancer of the mouth, and other conditions that could be impacting your oral and overall health. Generally carried out during regular dental cleaning visits, comprehensive exams Dr. Dentist Two assess the teeth, gums, arch alignment, jawbone, and other oral structures and will usually be the best path to prompt diagnosis and management of dental concerns. In order to preserve the wellness and appearance of your smile, arrange an annual oral examination at our City, ST office today.
Approximately 50,000 U.S. citizens are affected by oral cancer annually; however, this disease may be incredibly manageable if diagnosed in its earliest stages. Oral cancer is a quickly expanding multiplication of cells that can develop inside of or throughout the, including on the, mid-face, tongue, oral glands, jaws, or the throat, among various other oral areas. carries out an oral cancer screening at each yearly exam to identify precancerous cells, malignant growths, or other irregular areas. A handful of the most common signs of oral cancer include abscesses, lumps, elevated or bumpy areas, and discolored patches of skin. The areas of concern might be removed and analyzed, or you might be referred to a physician for necessary care.
Reviews
"They are a very professional dental practice. I am glad that I go there."
- F.R. /
Google /
Apr 16, 2020
"first time patient, they were very nice. helped me get all done what needed on that day. I need a lot done. I didn't felt judged or made to feel bad. They were very efficient and detailed in there work."
- L.W. /
Google /
Mar 06, 2020
"DentalWorks were able to get me in on a Saturday and help with my tooth pain. The staff was friendly and helpful. I'm very grateful for DentalWorks and the help they provided me!"
- A.Q. /
Google /
Dec 15, 2019
"DentalWorks were able to get me in on a Saturday and help with my tooth pain. The staff was friendly and helpful. I'm very grateful for DentalWorks and the help they provided me!"
- T.T. /
Google /
Dec 08, 2019
"I have seen 2 dentists in this office and both were extremely attentive. I have never had dentists that pay such great attention to all of the needs at that visit and prepare and offer information for future care and health. The whole staff is very thorough and kind. I have had a wonderful experience and will continue to visit this office for my dental needs."
- D.W. /
Google /
Jul 14, 2019
Previous
Next
Who Should Get Dental Exams?
City, ST individuals of all ages should be having dental exams a minimum of one time each year for comprehensive care. Dental exams may also be conducted when necessary to evaluate tooth discomfort, trauma, and further problems that could form between visits. Periodontal diseasethe central reason for tooth loss and tooth decay might not cause obvious signs to develop until the more advanced stages. When dental conditions are detected immediately, our dental professionals can generally provide a more diverse range of options for treatment.
The () all infants and toddlers visit their dental care provider before their first birthday. To treat patients at a young age, our staff can focus on a variety of concernslike the emergence of teeth and thumb-sucking and guide you in taking care of your young one's teeth and gums as their mouth structures develop. Annual comprehensive oral exams can help your growing family form great oral practices early on and let them attain hygienic smiles for many years.
What To Expect During Your Visit
Yearly exams at our City, ST practice open with an overview of your medical record. We could also discuss any health problems or aesthetic smile desires you have to uncover more about your general dental health. During particular annual appointments, a set of detailed x-rays could be ordered to grant improved awareness of the wellness of your teeth and oral bone structures. They would then screen for oral cancer, evaluate the evenness of your bite and temporomandibular joints, and assess your teeth for irregularities, as well as the wear of any dental restorations. A exam might also be conducted to discover potential symptoms of disease.
Forming effective dental hygiene habitsincluding regular brushing twice a day, as well as flossing roughly once a day should help to lessen your likelihood for developing cavities and gum disease. conducts regular oral exams typically one time per year, frequently during one of a patient's six-month professional teeth cleaning visits, but might recommend exams more often for patients with specific dental health conditions. Our practice performs a wide range of effective solutions, like state-of-the-art dental fillings, dental implants, and ceramic veneers, to address your unique smile concerns. When necessary, our staff will help you schedule checkup appointments.
Insurance Coverage for Exams
Oral checkups fall under general care solutions; this means that they are typically covered by insurance programs. Prior to your session, a member of our business staff will look over your individual plan and contact you with any potential extra costs. DentalWorks - Hyperlingo is excited to accept several simple payment options to help assure that all individuals can obtain proper, accessible treatment.
Why does my tooth hurt?
Toothaches are caused by a number of issues. The most common cause, cavities, or tooth decay, create a painful environment around or inside the affected tooth. Some patients may have an abscess, or an infection of the tooth root, which can cause excruciating pain.
How long should I wait to see a dentist if my tooth hurts?
A toothache typically develops from an infection or damage somewhere inside or around a tooth. Treating tooth pain with pain-relieving medication might provide temporary relief. We recommend seeing the dentist if your toothache lasts longer than a day, because your condition can worsen if left untreated.
How is a toothache treated?
After an examination, the dentist may take x-rays to further decipher the cause of your toothache. Once a diagnosis is reached, a treatment plan will be prescribed to address the toothache. These treatments may include antibiotics and fillings to more in-depth procedures, like a root canal or tooth extraction.
How can I prevent a toothache?
The best way to prevent a toothache is by maintaining good oral hygiene practices. Brush your teeth gently twice a day with a fluoride toothpaste and floss at least once a day. If you play sports, consider wearing a mouth guard. And don't forget to schedule regular dental exams and cleanings twice a year.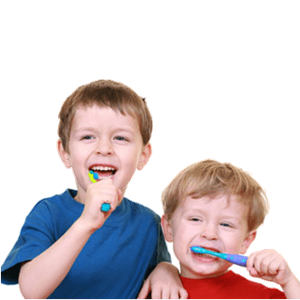 Protect Your Smile With Preventive Care
Getting a healthy smile takes more effort than simply visiting your dental practitioner if you have something abnormal. Routine dental exams at DentalWorks - Hyperlingo can help ensure immediate identification and management for oral issues and are necessary in protecting your dental wellness. Plan your family's yearly oral exams with Dr. Dentist Two at our City, ST facility as soon as you can!
Related Procedures
Related Posts