Commonly an element in many standard dental health routines, fluoride is a beneficial substance found in several foods and beverages. As a bonus, it can also be directly onto the teeth to offer many oral benefits. Fluoride may fight off cavities by the enamel more resilient to bacteria. Fluoride might also reinforce the tooth's structure to help reduce the beginning signs of dental decay. Local areas that add fluoride to water sources usually notice decreased cases of cavities between their residents. These benefits of fluoride are highlights by the () and additional reputable associations. At DentalWorks - Hyperlingo, we are pleased to offer professional fluoride treatments for patients of all ages. To learn more regarding how fluoride can benefit your family's dental wellness, set up a visit with Dr. Dentist Two in City, ST.
Reviews
"They are a very professional dental practice. I am glad that I go there."
- F.R. /
Google /
Apr 16, 2020
"first time patient, they were very nice. helped me get all done what needed on that day. I need a lot done. I didn't felt judged or made to feel bad. They were very efficient and detailed in there work."
- L.W. /
Google /
Mar 06, 2020
"DentalWorks were able to get me in on a Saturday and help with my tooth pain. The staff was friendly and helpful. I'm very grateful for DentalWorks and the help they provided me!"
- A.Q. /
Google /
Dec 15, 2019
"DentalWorks were able to get me in on a Saturday and help with my tooth pain. The staff was friendly and helpful. I'm very grateful for DentalWorks and the help they provided me!"
- T.T. /
Google /
Dec 08, 2019
"I have seen 2 dentists in this office and both were extremely attentive. I have never had dentists that pay such great attention to all of the needs at that visit and prepare and offer information for future care and health. The whole staff is very thorough and kind. I have had a wonderful experience and will continue to visit this office for my dental needs."
- D.W. /
Google /
Jul 14, 2019
Previous
Next
Ideal Candidates for Fluoride Treatments
Younger individuals, adolescents, and adults could all be the perfect candidates for professional fluoride treatments. They could help prevent decay in kids with new teeth or adolescents who are more prone to decay. City, ST children and adults who do not drink fluoridated water could additionally benefit from fluoride applications. may offer fluoride treatments for individuals at a greater risk of cavities, such as adolescents or adults who wear braces or have (). Fluoride treatments might also work to reduce tooth sensitivity and protect vulnerable enamel since it is less resistant to cavities.
What to Expect With Fluoride Treatments
DentalWorks - Hyperlingo has a variety of fluoride types and varieties to these treatments tolerable for everyone. Fluoride applications are usually carried out every half a year immediately after a professional cleaning and dental exam. As soon as your flavor is picked, our team will ready the treatment as a varnish, foam, gel, or liquid. The treatment will be kept on the teeth for under 5 minutes, depending on the formulation, to give the minerals enough time to penetrate your teeth. To attain optimal advantages from your fluoride service, you might need to wait a minimum of 30 minutes before consuming food or drinking water.
Fluoride Treatment Aftercare
Nausea may develop in the event that any fluoride is unintentionally swallowed, but this will dissipate roughly one day after your appointment. When it comes to a few situations, may give fluoride supplements or medical-grade fluoridated toothpaste to raise your fluoride consumption. Because fluoride is known to be hazardous in large volumes, parents should be sure to keep fluoride toothpastes and rinses away from children. Although these treatments help to ward off cavities, it is still important to brush using fluoridated pastes, floss, and rinses twice a day. Our dental care providers also urge you to go to biannual oral assessments and professional cleanings at DentalWorks - Hyperlingo so can reassess your total oral wellness.
Insurance Coverage for Fluoride Treatments
Routine fluoride applications may be paid for by dental insurance provider. Our office's billing team can look over your family's insurance plan to help you get the most out of your policy. In the event that you have out-of-pocket expenses, our staff will talk about the payment options accepted at DentalWorks - Hyperlingo or help you apply for medical payment plans.
FAQs About Fluoride Treatment
1. What is fluoride?
Fluoride is a mineral found in the bones and teeth that helps to strengthen enamel. It is used in supplements, toothpaste, mouth rinses, and dental fluoride treatments to improve oral health.
2. What happens during a fluoride treatment?
After a dental exam and routine dental cleaning, the teeth are dried fully to avoid diluting the strength of the fluoride. The treatment is administered by gel, foam, or paint-on varnish that is left on the teeth for a few minutes. Once the treatment is complete, you must be careful to spit out all of the fluoride from the mouth.
3. How often can you have fluoride treatment?
A fluoride treatment is usually given every six months after a dental cleaning and exam. However, it can be recommended more often if a patient has weakened enamel or is prone to cavities.
4. Are there side effects if fluoride is consumed?
While fluoride is naturally-occurring, when consumed in large amounts, it can cause serious health conditions. Dental fluorosis occurs when you consume too much fluoride while your teeth are still forming underneath the gums. This can result in white spots on the tooth's surface. This condition usually affects children under the age of 8 who are the most likely to swallow toothpaste.
5. How long should I wait to eat after a fluoride treatment?
To allow the fluoride to penetrate the enamel, you should not eat, drink, or smoke for at least a half-hour after a fluoride treatment.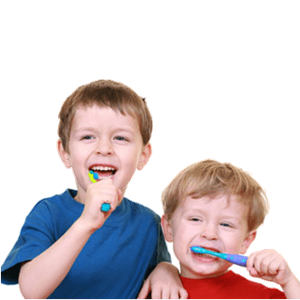 Fight Tooth Decay WIth Fluoride
Maintain the health of your children's tooth enamel with regular fluoride applications at DentalWorks - Hyperlingo. recommends fluoride treatments for kids, teens, and adults to rebuild the teeth, shield from cavities, and address beginning symptoms of decay. Get in touch with our office in City, ST to set up a cleaning paired with a fluoride treatment or to learn more about this preventive oral care procedure.
Related Procedures
Related Posts